The Places a WebQuest Will Take You!
Nancyruth Leibold, EdD, RN, PHN, CNE
Assistant Professor of Nursing
Southwest Minnesota State University
WebQuests are an online learning strategy that includes inquiry and active learning by learners as a specific task is accomplished (Dodge, 1995). Constructivism is the foundation for WebQuests and learners acquire new knowledge via WebQuests (Lahaie, 2008). Learning activities through a "quest," coupled with resources engage the learner to discover new knowledge or perspectives. The following chart organizes information about WebQuest in nursing education.
Table 1. WebQuest information for nurse educators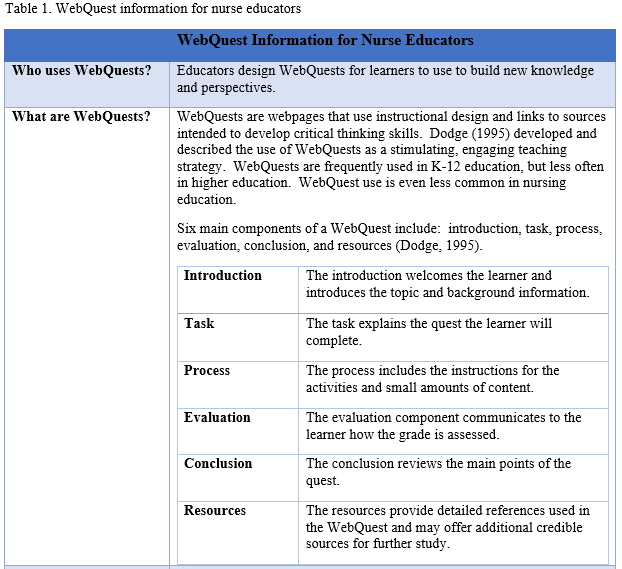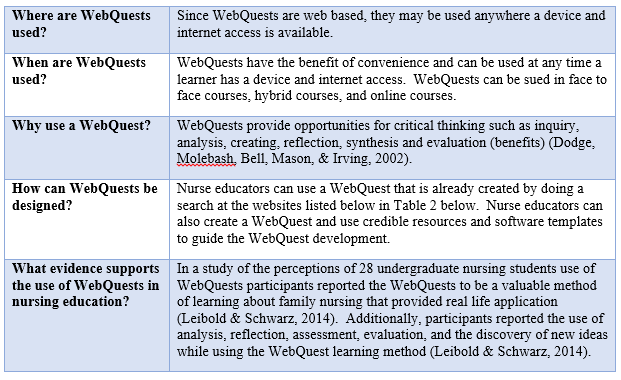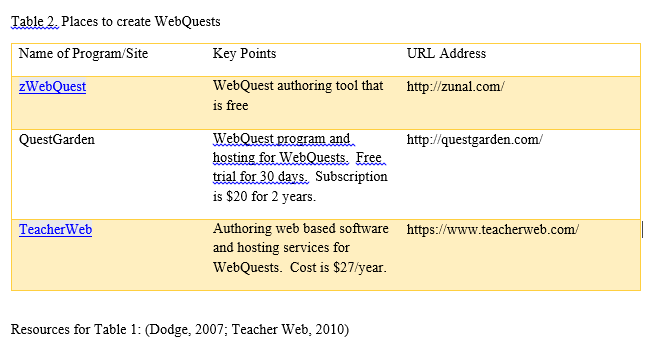 A WebQuest is an effective teaching strategy that is received favorably by nursing students (Leibold & Schwarz, 2014). The learner completes a "Quest" learning activity to includes critical thinking and building new knowledge. WebQuests are founded on the philosophy of constructivism (Lahaie, 2008). Additionally, WebQuests may be designed by the teacher or an already published WebQuest may be used.. In addition, WebQuests are convenient for the learner to use at any time as long as a computer and internet access is available. A WebQuest can be short, such as for one unit or long such as for several units or final course project.
Below are further WebQuest resources!
References
Dodge, B. (1995). WebQuests: A technique for Internet-based learning. Distance Educator, 1(2), 10-13.
Dodge, B. (2007). QuestGarden and other online authoring systems. Retrieved from: http://webquest.org/index-create.php
Dodge, B., Molebash, P. E., Bell, R., Mason, C., & Irving, K. (2002). Promoting student inquiry: WebQuests to web inquiry projects (WIPs). In D.A. Willis, N.E. Davis, & J. Price (Eds.)., Proceedings of the Society for Information Technology and Teacher Education International Conference 2002 (pp. 67-72). Norfolk, VA: Association for the Advancement of Computing in Education.
Lahaie, U. D. (2008). Is nursing ready for WebQuests? Journal of Nursing Education, 47(12), 567-570.
Leibold, N. & Schwarz, L. M. (2014). WebQuests in family nursing education: The learner's perspective. International Journal of Nursing, 1(1), 39-50.
Teacher Web. (2010). Welcome to teacher web. Retrieved from: https://www.teacherweb.com/
Zunal. (2012). Zunal WebQuest maker. Retrieved from http://www.zunal.com/
Author Brief
Nancyruth Leibold has been a nurse educator since 1984 in staff development and higher education. She currently teaches online at Southwest Minnesota State University in the Department of Nursing. Nancyruth has a special interest in the use of technology and teaching strategies.
E-mail: Nancyruth.leibold@smsu.edu

WebQuests are a teaching strategy in nursing education. This is a great place to learn about WebQuests and do a search for sample WebQuests: http://questgarden.com/
Read this research article to learn more about WebQuests: http://aripd.org/journals/ijn/Vol_1_No_1_June_2014/4.pdf
Search Engines for Published WebQuests
•QuestGarden WebQuest search: http://questgarden.com/author/examplestop.php
•Zunal WebQuest search: http://zunal.com/index-search.php?t=5&key=webquest
Places to Create Your Own WebQuest
•Zunal WebQuest Maker: http://zunal.com/
•QuestGarden: http://questgarden.com/
•TeacherWeb: https://www.teacherweb.com/
Selected WebQuest Examples:
Nursing WebQuest: Patients and Families with Chronic Illness: http://questgarden.com/137/38/1/111222124351/
Caring for Patients and Families with HIV/AIDS: http://questgarden.com/137/38/1/111222105631/
Academic Integrity: http://questgarden.com/137/38/1/120314111042/
Caring, Culture, and Family Nursing: http://questgarden.com/137/38/1/120314110229/
CAM: http://questgarden.com/q/CAM
The Family Cultural Assessment: http://questgarden.com/q/transcultural
Spiritual Nursing Assessment: http://questgarden.com/q/spiritual